DNB AM has set ambitious targets for how we will increase financing for sustainability-themed products, and how we will influence the companies in DNB AM's portfolios to set clear goals and plans to reduce their emissions.
We are increasing our focus on sustainability-themed funds
The new transition strategy expands on the goals defined in the sustainability strategy from 2021, which includes increasing total AUM in sustainability-themed funds to NOK 200 billion by the end of 2025. Sustainability-themed funds are funds that have a sustainability-focused strategy that emphasises either stricter emission requirements through low-carbon criteria, funds that focus on the UN Sustainable Development Goals, or other thematic funds. We have made changes to our fund product portfolio and set stricter requirements for high-emission investments, for example for Norwegian fixed income funds. The goal of 50 per cent of net flows in 2025 being allocated to sustainability-themed funds will also be retained.
Customers preferences are integral to achieving targets
Customer preferences are an integral component in achieving these goals. The goals we have set for DNB AM mean that we must develop new products and continue to integrate sustainability into the products we currently offer. It is equally important that customers are part of this ambition. Through MIFID 2, we are already inquiring about our customers' sustainability preferences, but we also need to ensure that sustainability-themed funds are the most competitive and attractive funds for our clients. The whole of DNB AM is ready to make this promise, but customers must be involved and engaged.
Pushing for science-based targets through active ownership
Last but not least, in line with DNB's net zero emissions ambition and transition strategy, we are launching a new target that 58 per cent of companies in DNB AM's portfolio will have set a science-based emission reduction target by 2030. At the end of 2022, 24 per cent of the companies in the portfolio had such a target. If the world is to reach net zero by 2050, all companies should have set such a target by 2040 at the latest, according to the Science-Based Target Initiative. For DNB AM to be in line with this development, we have set a target that by 2030, 58 per cent of the companies in DNB AM's portfolio must have a science-based emission reduction target. The target of 58 per cent in 2030 assumes a linear development in the number of companies with such targets based on the 2022 figure. DNB AM does not wish to exclude companies with high emissions from our investment universe. We believe that those with the highest emissions are the same companies that, through sound emission strategies, will be able to have the greatest impact on the green transition. Active ownership will be our most important tool here.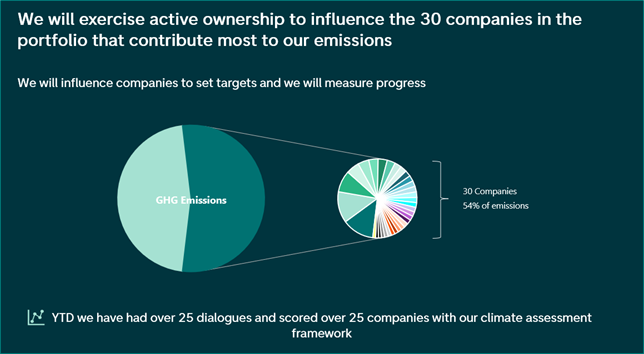 DNB AM has for several years engaged with companies to discuss climate reporting and targets, but in line with our new goal, these engagements should be even more targeted. We also vote at general meetings of all Norwegian companies we hold in our portfolio, all companies we hold in actively managed funds and all general meetings where a shareholder sale is made - this is often where we see that environmental shareholder proposals are put forward. Going forward, it will also be important to consider whether proposals support our ambitions, and we will encourage transparency by also becoming more transparent and in our own climate reporting.
We are already in the process of mapping and influencing the 30 companies in the portfolio that contribute most to our emissions, ensuring that they set realistic and science-based targets, as well as cutting their emissions in line with these targets. To see how DNB AM votes, please visit our information page about voting.
DNB AM is proud to be continuing our contribution towards the transition to a low carbon economy. We will report on these targets both in our Responsible Investment Annual Report and in our quarterly reports on responsible investment, both of which are available on our website. The DNB transition strategy in full is available to read here.
Last updated: